Why you need Window Well Repair & Window Well Waterproofing
What Is A Window Well?
A window well is the excavated area outside of your basement window that is similar to a trench, and consists of a steel metal sheet that acts as a retaining wall against the surrounding dirt to help drain water away. All basement window wells must be built below grade and require proper drainage installed to prevent water leaking inside your basement. Unfortunately, mistakes are made and some people do experience water damage to their basement caused by improper installation of their window well.
Common Reasons for Window Well Repair & Waterproofing
When a basement window is the source of water damage, the next step is to contact a window well repair professional to assess the area and determine the cause for well failure. Common problems include a homeowner installing a new or enlarging an existing window well and not excavating down to the weeping tile for proper drainage, or the well was not properly attached to the wall of the home. When a window well is not properly attached, the ground beneath the well shifts from Edmonton's freezing temperatures which can lift the well and cause soil and debris to plug the drain pipe.
To solidify window well repair, hire a team who has the equipment to properly excavate down to the weeping tile and the ability to pack down soil firm to prevent ground shift issues throughout each season. Window well waterproofing is done once the area is properly excavated, the well is properly fastened to the wall, and gravel is laid down at the footing above the weeping tile and at the base of the window to allow water to slowly flow to the storm drain.
The team at Abarent Construction ltd. has over 20 years of experience in window well repair and window well upgrading. Get in touch with us if your window well is causing a concern. We can discuss your concerns and let you know about your options. We serve BC and Alberta and have offices in Edmonton and Vancouver.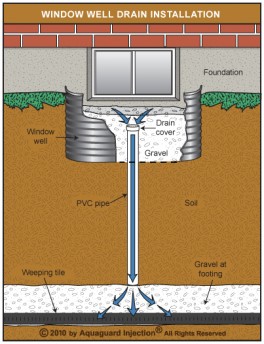 Image source of AquaguardInjection.com