HELICAL SCREW PILE INSTALLATION EDMONTON
Screw Piles or Helical Piles have many application advantages. For most places that a pile for support is required, a screw pile or helical screw pile can be installed as an economical and effective alternative. Especially where problem soils exist.
Foundation Piles
Column Supports
Portable Structures and Modular Building Foundations
Tie-Back Retention
Solar and Telecommunication Towers
Pipe Racks
Pipe Line Anchors
Structural Slab Support (Tension and Compression)
Large Signs
Underpinning
Screw pile installation by Abarent
Contact us for more information & pricing.
What are Screw Piles?
Screw Piles also known as Helical Piles or Helical piers are a very basic product. They consist of a shaft/pipe and a helix (which is much like a single rotation of a screw). Helical Piers "Screw Piles" were first used in England, invented and patented by Alexander Mitchell sometime around 1830. Some of the original installed piles installed in that era have been analyzed and have been found to have not lost any of their integral strength.
How are screw piles installed?
"Screw Piles" are installed at relatively low RPM with an increase in torque during installation. Sections are added as the pier is screwed into the ground. Once the predetermined depth and installation torques are reached the pile can be cut off and a load bearing plate or bracket is attached. With underpinning, this bracket can also be used to accommodate lifting the foundation to level building elements. The latter is a definite advantage over some of the underpinning systems available.
Installation of the piles can be done with anything from small portable equipment to varying sizes of machinery such as a backhoe or skid steer. During the installation of helical screw piles, crews will record the pressure on the hydraulic motor and with that, the torque can be calculated. This installation torque has been shown to have direct correlations to installed pile capacity. A reputable company will only use this installation torque as a confirmation to an already engineered pile design based on a soils investigation.
Advantages of using screw piles
Little to no vibration and very little soil disturbance
These piles also resist upward forces. This is especially important in expansive soil. The helix is anchored in competent load bearing soil and the frictional forces along the shaft are negligible compared to the end bearing force.
Screw Piles are designed as a "True End Bearing Pile" only. Any minimal "skin friction" on the side of the pile shaft is not calculated into the piles required capacity. The amount of weight the pile can handle is governed by the bottom of the pile (Helix plate). This creates confidence in the Helical Pier System to perform in soils where moisture levels change (which would change the parameters upon which any friction pile would work). Keeping in mind that the most common reason for foundation settlement is shrinkage of the soils due to moisture loss, the Helical Pier is the most practical choice for the Engineering community.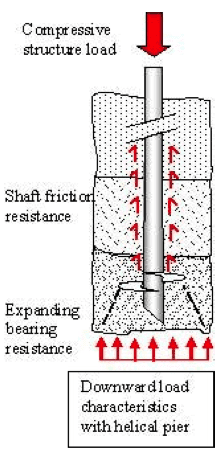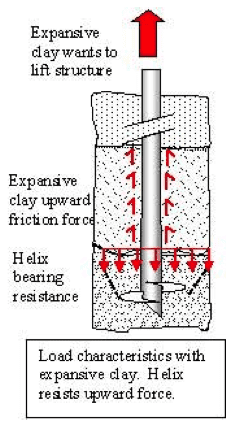 Helical Pier Systems (HPS)
There are different manufacturers of Helical Piers and they are not all equal. Connection stiffness is of great importance as is pile design and stringent adherence to the manufacturing process. Our manufacturing company, Helical Pier Systems (HPS), dedicates considerable resources to their research and manufacturing process. HPS has offered engineering, manufacturing, equipment design, creation and distribution for helical piling products since 1977.
Resources
NEW BROCHURES CURRENTLY UNDER CONSTRUCTION
More Resources
Helical Piers vs Drilled Piers: This is an engineering paper on a comparison between screw piles and drilled friction piles.
HPS Design Manual: This is a general design manual for Helical Pier Systems Screw Pile products and will be provided to authorized clients upon request.
NEW Load Test: This is an article published at www.loadtest.com on the world's first Osterberg cell (O-cell) load test of a Helical Pile.
PIC Load Tests: This is an article in the Piling Industry Canada magazine on the world's first Osterberg cell (O-cell) load test of a Helical Pile.
PIC Magazine: This is an article in the Piling Industry Canada magazine on HPS High Capacity piles.
Piling Canada: Article on HPS and helical piles in North America.
Get An Estimate
If you need experienced professionals to help with screw piles and underpinning, contact Abarent Construction's Edmonton office.
We can discuss the details of your project, our range of work and provide you with an estimate based on your specific needs and budget.
We take pride in our customer service. Fill out the form below and we will get back to you as soon as we can.
What our customers say:
Andrew Campbell
(After a record-breaking rainfall in July 2012 and days before we were leaving on vacation, we returned home and) found that our basement was flooded….
John Baker
Abarent provided a 3-page, itemized list of the specific work to be done at each stage of the project, including descriptions of optional issues (incl…